Chitosan Applications in Cosmetics
Thanks to its many and versatile core propertied, chitosan can be used in cosmetics, cosmeceuticals, skincare, hair care and other personal hygiene products in a number of ways.
Introduction to chitosan
Chitosan is a naturally occurring polysaccharide. Its most common source is chitin, a structural fiber abundantly found in nature. Chitin is the main component of exoskeletons, while it can also be found in fungi and yeasts. After cellulose, chitin is the second-most affluent natural polymer. Since its initial discovery in 1811, chitosan has proven to be a useful and eco-friendly polymer, with still much potential for development.
With dozens of applications so far already, chitin and its derivatives have extraordinary potential. Chitosan consists of a family of products, differing in polymer length, degree of deacetylation, chemical sequences and product purity. It is a multifunctional polymer that possesses an impressive number of properties that can be introduced to formulations for cosmetic or cosmeceutical use.
Chitosan properties and its applications in cosmetics and cosmeceuticals
Thanks to its many and versatile core propertied, chitosan can be used in cosmetics and cosmeceuticals in a number of ways.
Cosmetics are defined as substances or preparations that are suitable for application on external parts of the body, such as the skin, hair, nails, teeth, oral cavity, and lips. Cosmeceuticals are cosmetics with medical properties, and the term comes from the words "cosmetic" and "pharmaceutical".
Chitosan's core functional properties include:
limited toxicity
biocompatibility
biodegradability
Chitosan's biodegradability and limited toxicity make it an excellent green ingredient and alternative to undesirable chemicals that can have harmful effects on both humans and the environment. Chitosan's biocompatibility makes it suitable for skin and other body applications, while it is also quite compatible with common ingredients found in cosmetic formulations, such as glucose, oils, fats, acids, waxes, emulsifiers, enzymes, etc.
Chitosan also has the ability to bind to active ingredients and act as a delivery system to the skin. Its film-forming, bioadhesive and mucoadhesive properties greatly facilitate this task to ensure a steady delivery to the organ selected. This is especially useful in moisturizing skincare and hair care products.
Chitosan properties for cosmetic application include:
Antimicrobial
Anti-inflammatory
Cell regenerative, anti-aging
Delivery system for controlled release of bioactive agents
Film-forming, hair-fixing, encapsulating and protective
Moisture retentive
Antioxidant
Antistatic
Chitosan can be used as an active ingredient thanks to its own specific properties, or it can be used as a carrier for other ingredients, thanks to its cationic and emulsifying properties.
Chitosan and skincare
Chitosan can have numerous applications in skincare. Our body's largest organ, the skin, is responsible for protecting us against external aggressors, for regulating body temperature, and for providing us with the ability for tactile sensation. Environmental and lifestyle factors affect our skin daily, causing both cosmetic and dermatological problems.
Among its bioactive properties that benefit cosmetic use, chitosan helps to protect the skin, maintain skin moisture, promote natural skin renewal and barrier function. It can also act as an emollient, humectant, cleanser, and conditioner for skin. Chitosan is therefore an ally in anti-aging skin care products.
Aging is also part of our skin's natural cycle, and the aging process is both intrinsic and extrinsic. Cosmetic or cosmeceutical solutions containing chitosan can be developed to tackle common skin conditions such as hyperpigmentation, eczema or psoriasis, microbial imbalance, skin healing, sun damage and signs of aging, such as wrinkles, fine lines and loss of elasticity. Below are the results of skin thickness, after a 12-week clinical trial treatment using ChitoCare beauty Hair, Skin & Nails.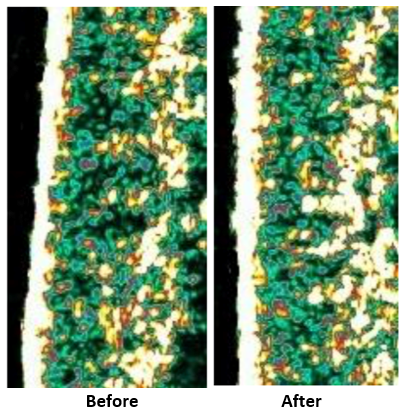 Also, thanks to chitosan's film-forming nature, it covers the surface of the skin in a thin and flexible film. This provides an extra layer of protection against external aggressors, while it also locks in moisture, helping the skin to remain hydrated. Its antipruritic properties help to reduce itching, while its breathable film allows for good air permeation.
Chitosan is also a powerful antioxidant, with scavenging ability against free radicals that cause oxidative stress. Oxidative stress can result in several skin problems, including skin pigmentation and premature aging, inducing changes in skin complexion, homogeneity, dryness, wrinkling, sagging, discoloration, loss of collagen and elastin fibers.
Skin photoaging, a type of skin aging damage, is caused by exposure to UV radiation, and is characterized by oxidative stress, inflammation, wrinkles, dryness, and skin laxity, among other side effects. Chitosan can help reduce photoaging in the skin, thanks to its antioxidant and anti-inflammatory properties. Below are the results on the skin after a 12-week clinical trial treatment with ChitoCare beauty Hair, Skin & Nails.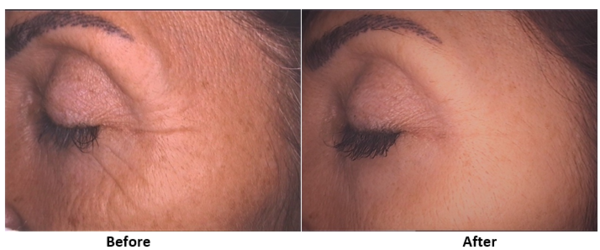 Chitosan's anti-inflammatory and anti-pruritic properties also make it suitable for the treatment of acne vulgaris. Chitosan's skin healing properties help to restore irritated skin and reduce scarring, by promoting aesthetic collagen rearrangement during the natural skin healing process.
Chitosan and oral care
Being antimicrobial, chitosan can be widely used in oral care applications. It can reduce growth of bacteria in the mouth, enhance gum health and prevent tooth erosion. Its antimicrobial activity can also help battle oral pathogens, plaque, gingivitis, dental caries, and other oral diseases.
Oral hygiene is related to both buccal and dental health, as well as cosmetic appearance. Issues such as tooth decay, bacterial infections, gum diseases, caries and plaque can have serious health and aesthetic side effects. It can also be used as a natural alternative to certain preservatives.
Chitosan has been proposed for use in preventive and conservative dentistry, endodontics, periodontology, prosthodontics, and orthodontics. When applied to oral healthcare, chitosan can assist in preventive dentistry, to avoid gum and dental illnesses. It can be used in toothpaste, mouthwash, chewing gum, and dental varnishes.
Chitosan and hair care
Chitosan, having hair-fixing and antistatic properties, is a powerful ingredient for hair care. Hair can be damaged by UV exposure, heat stress from hair dryers, curling or straightening irons, perming, harsh chemicals, or chlorine. Chitosan can help rebuild damaged hair, improve hair thickness, and provide hair with a healthy shine.
Hair care products with chitosan can improve hair suppleness and softness, reduce static electricity, remove sebum and oils, improve hair hydration, fight the fungus that causes dandruff, and promote hair growth.
Chitosan can also be used as a bacteriostatic agent. Thanks to its ability to improve the flow of ingredients in hair care formulations, it can also enhance the adhesive character of specific ingredients to the hair.
Polymer characterization and chitosan formulations
As chitosan's properties are related to its physio-chemical characteristics and functional properties, it is important to accurately characterize this polymer when developing a formula. Accurate characterization is crucial, as it determines which characteristics emerge and are relevant for each specific application.
Chitosan can undergo varying degrees of deacetylation to achieve the desired solution, while its molecular weight can also help formulate solutions for specific cosmetic applications.
As chitosan can be used in aqueous solutions or solid form, it can be combined with other active ingredients or bioactive products, for example for moisturizing creams, solar filters for sunscreen products, skin tones, and serums, further facilitating their effects.
Chitosan's unique properties also allow its use as an emulsion stabilizer or viscosity controller when formulating cosmetics. Chitosan's antioxidant action makes it an excellent additive that can help prevent the oxidation of other ingredients, such as vitamins or essential oils.
Chitosan, therefore, can operate as the active ingredient thanks to its own unique properties, or it can act as a delivery system. For example, in skincare, it prolongs the contact between an active agent and the epidermis, enhancing the action of active agents in a long-term controlled manner.

Possible chitosan formulations for cosmetics
Thanks to its multifunctional nature, chitosan can be formulated into different types of solutions:
Thickening agents
Hydrating and film-forming agents
Stabilizing emulsions
Toothpastes, mouthwashes, chewing gum
Summary
Chitosan has many unique properties that make it an excellent ingredient for cosmetic and cosmeceutical formulations. It has antimicrobial, analgesic, antioxidant and moisturizing properties with many possible applications.
In skincare, it helps protect the skin, retain moisture, provide a soothing and anti-inflammatory effect, promote the natural skin renewal process and retard the signs of aging. It is also suitable for acne-prone or eczema-prone skin.
In oral care, it helps reduce bacterial growth or can be used as an alternative to certain preservatives.
In hair care, it helps maintain moisture, control sebum production, repair damaged hair, improve hair thickness and increase the permeability of other active ingredients.
Primex has successfully used chitosan in its natural skincare brand ChitoCare beauty, where all products are formulated using chitosan manufactured by Primex, a leading biotechnology company and producer of high-quality chitosan.
For further information on how Primex can assist you with your chitosan needs for cosmetic, cosmeceutical or other products, please do not hesitate to get in touch.