How Chitosan Can Stimulate Growth in the Agriculture Industry
Primex products are powered by chitosan, a marine polysaccharide proven to be a highly efficient, natural, bioactive fibrous polymer. With dozens of applications, chitosan can also be used in the agricultural industry.
Chitosan has many unique qualities, among them a bioactive, cationic nature and antimicrobial, fungicidal and antioxidant activity. This makes chitosan suitable for use as a natural elicitor, preservative agent and nutritional ingredient for plants and crops. As chitosan manufacturers with over 20 years of experience and a state-of-the-art chitosan factory, we can provide our customers with pure, high-quality chitosan for multiple applications, including within the agricultural industry.
Chitosan's natural qualities are similar to plant sugars, encouraging bioactive effects within the plant on a molecular level that can stimulate beneficial microorganisms while simultaneously inhibiting pathogens. Chitosan has the ability to trigger the plant's immune response, activating its defense mechanisms and inducing numerous biological reactions.
Chitosan as a natural biomolecule elicitor:
stimulates plant's immune response
helps fruit growth and promotes sap, resin and essential oil production
is biodegradable as it contains breakable glycosidic bonds
improves plant health and increases resilience
can replace synthetic pesticides
reduces transpiration without lowering crop output
In addition, chitosan and its derivatives, like chitosan powder, has shown excellent mechanical properties, meaning it can incorporate or deliver functional substances, treating soil with nutrients, vitamins and antimicrobial agents. This can prove effective in reducing the need for potentially harmful chemical pesticides and replacing them with natural, biocompatible chitosan-based products that can provide controlled agrochemical release.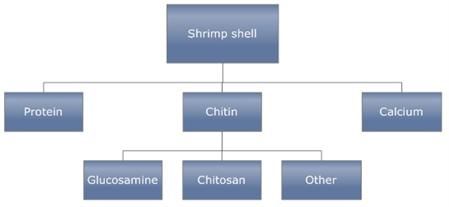 Chitosan as a natural biopesticide:
reduces the need for chemical fertilizers
inhibits pathogens and pests
has antifungal activity protecting seeds and roots
has positive effect on germination rate
stimulates plant growth and increases crop productivity
Thanks to its exceptional antimicrobial and film-forming activities, chitosan can be used post-harvest as a biopesticide to combat diseases, while it can also be used as a natural preservative coating agent. As chitosan is known to bind mycotoxins, it protects plant tissue from being damaged by toxins and works to better control and manage plant pathogens.
Chitosan formulations
Chitosan has multiple applications and can be formulated into powders, sprays and solutions that can coat and protect seeds, roots and crops from deteriorating microorganisms, mold, viruses and bacteria, even frost. It can be applied at low rates with positive results, making it an economical and convenient alternative to chemical products. It has been used effectively for plants and crops such as cotton, tomato, wheat, soybean, maize, lentils, rice and peanuts.
For more information on Primex chitosan products, please visit our Products page. If you would like to buy chitosan, chitosan powder in bulk, or discuss other chitosan formats, you can contact us so that we can assist you and help answer any questions you might have.