How Chitosan Works Wonders for Cosmetics and Cosmeceuticals
Chitosan is a bioactive polymer that is of great interest to the cosmetic, hygiene, personal care and cosmeceutical industry.
With multiple applications across multiple industries, pure chitosan has great potential, including in the field of cosmetics and cosmeceuticals. Cosmeceuticals, derived from the words 'cosmetic and pharmaceutical,' have drug-like benefits and contain active ingredients, contributing to beneficial effects on human health.
Chitosan as a multifunctional ingredient
Chitosan and its derivatives, such as chitosan powder, can be used in aqueous solutions or solid form, and it can be combined with other hydrating agents, solar filters and other bioactive products, facilitating their effects. Chitosan is biocompatible, making it well suited for skin use and compatible with other ingredients, such as glucose, oils, fats, acids, and more. It is a highly effective hydrating agent with film-forming abilities, simultaneously supplying water while preventing dehydration. Chitosan is multifunctional and can greatly contribute to personal care products by replacing undesirable chemicals, while it also enhances the permeability of other active ingredients.
Chitosan is commonly used in cosmetic and skin care applications as it helps to maintain skin moisture, tone skin, treat acne, provide extracellular matrix support, and promote the skin's natural barrier function. Chitosan is a natural stimulating agent in the process of skin regeneration and wound healing, promoting proper histoarchitectural tissue organization with optimal collagen structure, making it an ideal ingredient for anti-aging skincare products and wound healing.
Chitosan cosmetic and cosmeceutical properties:
Antimicrobial, antifungal, anti-inflammatory
Film-forming, encapsulating
Moisture retentive
Cell regenerative, anti-aging
Delivery device
Chitosan has a bioadhesive nature and great film-forming ability. It can therefore have two main functions in cosmetic and cosmeceutical applications: it can operate as the active ingredient, and/or it can act as a delivery system, prolonging the contact between an active agent and the dermis, enhancing the penetration of active agents in a long-term controlled manner. Chitosan-based products in the cosmeceutical market can contain essential oils and active ingredients such as vitamins, antioxidants and enzymes.
Being antimicrobial, chitosan is also widely used in oral care applications. In toothpaste, it can reduce growth of bacteria in the mouth and prevent tooth erosion. Further it can be used as a natural alternative to other preservatives.
Furthermore, chitosan is a powerful ingredient for hair care. It improves hair suppleness and softness, reduces static electricity, removes sebum and oils, retains moisture, fights the fungus that causes dandruff, and promotes hair growth.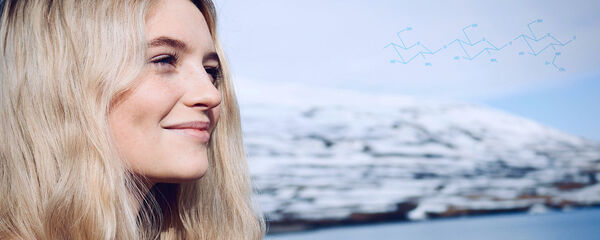 Chitosan formulations
Chitosan works as a multifunctional ingredient when formulating cosmetics. It can be used as an antioxidant agent, moisture absorption and retention agent, antimicrobial agent, delivery system and emulsion stabilizer. Our Primex chitosan factory is ready to provide the solution to your chitosan needs.
Chitosan can be formulated into:
Moisturizers, creams, lotions, pastes and serums
Cleansing milks, toners and peels
Thickening agents
Hydrating and film-forming agents
Stabilizing emulsions
Hair shampoos, sprays and colorants
Nail polishes, lacquers, enamels and varnishes
Deodorants and antiperspirants
Primex chitosan products in this category include ChitoClear® Cosmetic Grade (pure and high-quality chitosan), and Primex's own brand, ChitoCare Beauty. ChitoClear® Cosmetic Grade stabilizes emulsion, modifies the viscosity of products, increases the water resistance of sunscreens, and has antimicrobial properties.
ChitoCare Beauty product properties
The ChitoCare Beauty skin care product line contains pure chitosan as an active ingredient, and includes body lotions and scrubs, hand and face creams, anti-aging serums, medical devices, and dietary supplements. Below are some chitosan properties and how they apply to skin care.
Antimicrobial
Chitosan has antimicrobial properties, keeping the skin protected against harmful microorganisms that cause inflammation, infection, acne and other skin conditions. Chitosan also effectively removes excess sebum, preventing from further inflammation and infection while keeping skin soft, smooth and glowing.
Film-forming, moisture retentive
The epidermis protects our body from harm, keeps it hydrated and is where new skin cell creation happens. Harsh soaps, aging, genetics, hot baths and showers, frequent bathing, cold or dry weather conditions, even certain types of medication can contribute to skin losing moisture. Thanks to its film-forming properties, chitosan operates as a protective barrier, locking in moisture.
Collagen maintenance
Collagen loss is one of the reasons why mature skin develops wrinkles, fine lines, crow's feet, jowls and other creases and folds. The best way to combat and prevent their formation is to encourage the body to produce more collagen. Chitosan contributes to the skin's maintenance and its related processes. Boosting collagen production or preventing its decline may help keep skin strong, elastic, and younger-looking. Chitosan may support this process, either when applied topically to protect the skin, maintain adequate moisturization and stimulate aesthetic skin renewal, or by dietary intake supplemented with other important skin nutrients to support and provide a positive effect on the dermis and epidermis.
ANTI-AGING
By speeding up skin cell regeneration, chitosan helps slow down the aging process, encouraging our body to produce new skin cells, even in mature skin types, reducing roughness, fine lines and deep wrinkles. Below are pictures taken with a Dermoscope, a skin examination camera, showing the effects of a 12-week treatment using ChitoCare beauty Hair, Skin & Nails.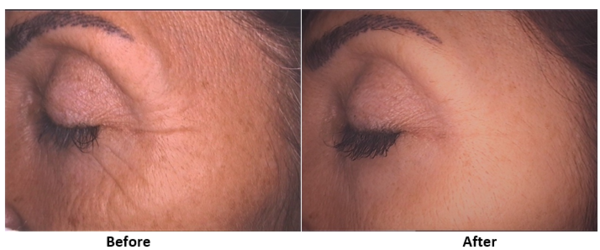 Hair care and growth
Chitosan can greatly benefit hair, as it locks in moisture thanks to its film-forming ability, keeping hair better hydrated. As it promotes collagen production, that give structure to our hair, nails, ligaments and more, chitosan helps rebuild damaged or thinning hair. By inducing hair growth, chitosan helps hair become thicker, stronger and with a healthy shine.
Ingredient delivery
When antioxidants are combined with chitosan into a skincare formula, these ingredients are slowly and steadily delivered to the skin and their therapeutic efficacy is enhanced, thanks to chitosan's binding and film-forming properties. This means chitosan is a dynamic agent for enabling the transport of nutrients, oxygen, antioxidants and other therapeutic compounds and substances to the skin.
If you would like to buy chitosan powder or chitosan in bulk, feel free to contact us, to find out how chitosan can help benefit your future cosmetic, cosmeceutical or personal care and hygiene products. As chitosan producers with over 20 years of experience, we would be happy to answer any questions and assist you further.